Program Yaware.TimeTracker can monitor not only sites, but also every single page.
For example, you can see in the report, that the employee of marketing department often visits the site facebook.com. But does he spend this time for work or correspondence with friends? You will learn this using the function "Sub-pages monitoring".
You can enable it in the profile settings: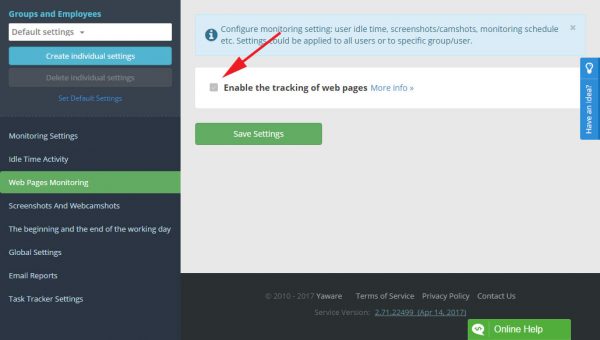 Rules for adding pages
If you want to know, what exactly is the employee engaged in on a specific site, you need to add this page to the address
How to do it? We'll show on the example of our site.
First press button "Add new address" and in the opened window enter page address https://yaware.ru/blog and category (business, design, accounting etc.). After that save changes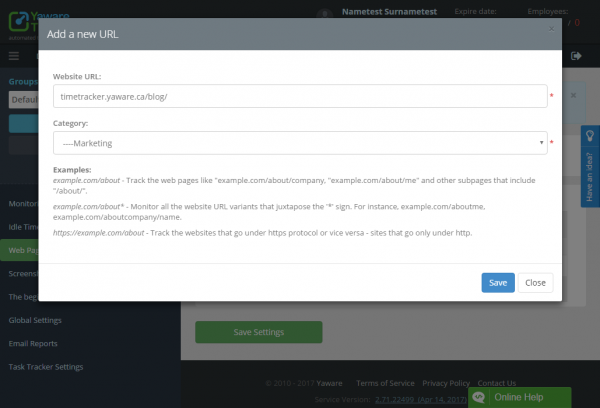 Now Yaware. Time Tracker will begin to monitor activity on the page https://yaware.ru/blog, https://yaware.ru/blog/news, https://yaware.ru/blog/stati and all the rest subpages of the site.
You can also add a specific page for monitoring.
For instance, you are interested in visiting only the page of news tape review Vkontakte (Вконтакте). Add the address vk.com/feed and at the next report, you will see, how much time does the employee spend for correspondence.

IMPORTANT!
If you enter the address, which begins with «https://», then the program will monitor only from this protocol. For the program could keep records from all protocols, you should enter page address starting with the name of the domain itself.
For example, vk.com/feed instead of http://vk.com/feed.
If at the end of the address you will enter a sign «*» (for example, http://vk.com/id*) it will mean, that the path to the page is incomplete and the program will monitor all pages with the similar address (http://vk.com/id, http://vk.com/id123, http://vk.com/id123/photos etc.).
You can change address information anytime, but old reports won't change at these addresses.