Automatic categorization allows you to specify particular conditions that help to add resources to the specified category automatically.
For example, you've added your company website to "Site administration" category and made this category productive. Thus, all website's subdomains will be added to the same category and all of them will be productive by default.
How to add a rule
1. Go to Categorization – Automatic Categorization:

2. Click on the "Add Rule" button:

3. Enter domain name with an asterisk (google.*), choose the category to which an app/website will automatically belong and click "Add Rule":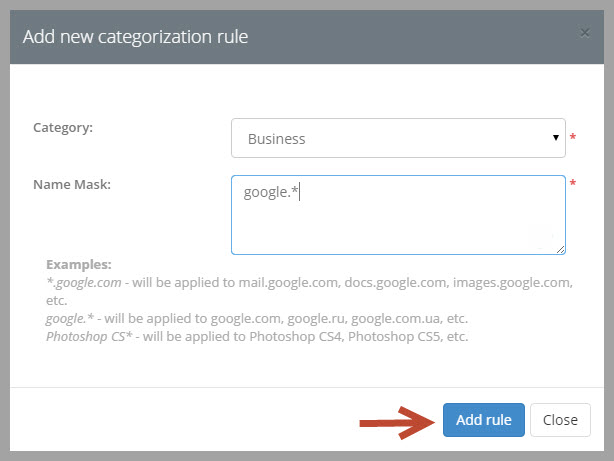 After that, all site subdomains will be added to the category you've specified.
If you want to apply automated categorization to websites in different domain zones, put an asterisk as specified below:
google.*
and the rule will be applied to google.com, google.co.uk,  etc.
If you put an asterisk at the beginning and end of a set of characters (* XXXXXXX *), then the resources that contain this combination of characters will subject to the rule.